Try This
Recipe: Peach Bread Pudding with Creme Anglaise
Prep time: 45 minutes | (plus 2 hours refrigeration) | Cook time: 40-45 minutes | Serves: 8-10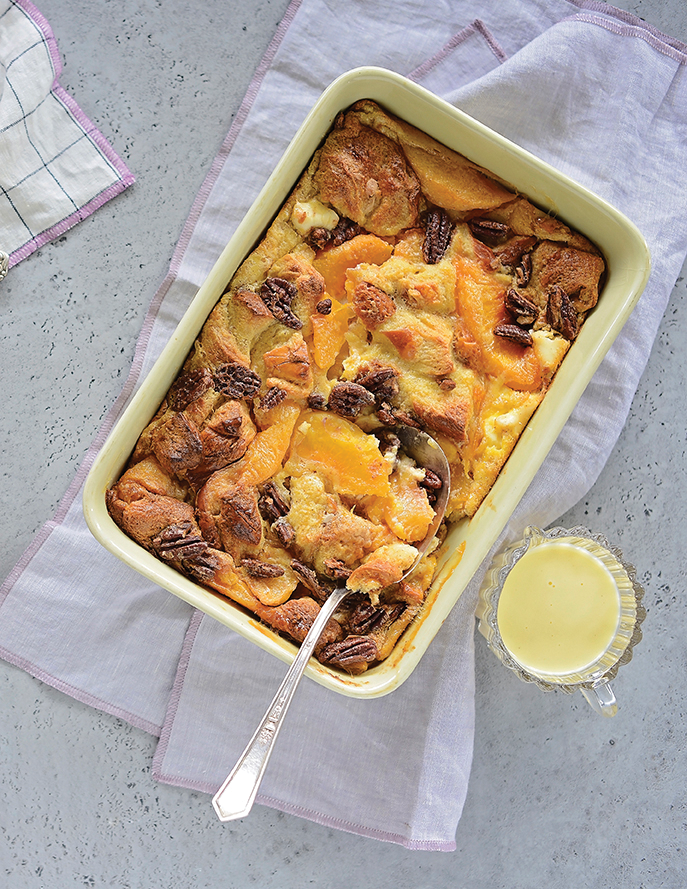 In addition to the cathartic nature of tending my garden, cultivating has been a peaceful activity for me. I can be given to worry and anxiousness if I'm not careful. The Internet with its string of bad news and the phone with its continual alerts and distractions feed this tendency in me. When I'm in the garden I can leave it all behind, and not out of pure denial or blissful ignorance. Surrounded by plants that bear their fruit in season, I'm reminded of Jesus' words to abide in Him as a branch abides in the vine (John 15). And when I clip the stem of a zinnia or lacecap hydrangea, I think of His comforting exhortation in Matthew 6:27-34. In the garden, I have the time to wonder: How might His words sound today if He were walking with me through the great outdoors? You don't really get this experience walking through the aisles of the grocery store.
Ingredients
BREAD PUDDING
12 slices brioche bread, cut into 1-inch cubes
2 ½ cups fresh peaches, peeled and chopped
½ package cream cheese (4 ounce), softened, cut in small pieces
1 cup pecans, toasted and chopped
2 cups whole milk
8 eggs, lightly beaten
1 ½ cup heavy cream
¾ cup sugar
½ teaspoon vanilla paste (or vanilla extract)
½ teaspoon sea salt
¼ teaspoon nutmeg
½ teaspoon cinnamon
CRÉME ANGLAISE
2 cups whole milk
¼ cup sugar
½ teaspoon vanilla paste
(or vanilla extract)
4 egg yolks
Instructions
Bread Pudding
Grease a rectangular baking dish.
In a large bowl, combine the pieces of bread, peaches, small pieces of cream cheese and pecans. Mix all together and drop into the baking dish.
In another bowl, mix the milk, eggs, heavy cream, sugar, vanilla, sea salt, nutmeg and cinnamon. Mix well and put over the bread mixture. Using the back of a spoon, press down to moisten all the ingredients. Cover and let stand in the refrigerator for about 2 hours.
Preheat oven to 350° F and bake the bread pudding uncovered for 40-45 minutes or until set.
Serve with warm créme anglaise.
CRÉME ANGLAISE
In a heavy saucepan bring milk,
2 tablespoons sugar, and vanilla to a boil over medium heat.
In a large bowl, whisk together the egg yolks and remaining sugar. Very slowly, start pouring the hot milk little by little into the egg mixture, whisking constantly. Pour the mixture back in the saucepan and cook over medium heat, stirring constantly, until the mixture coats the back of a spoon. Be careful not to boil. The sauce can be kept in the refrigerator until ready to use.
Excerpted with permission from "A Place at the Table" by Kelly MinteR. © 2019, B&H Publishing Group.