Try This
Recipe: Cilantro Chicken Enchiladas
Prep time: 45 minutes | Cook time: 20-30 minutes | Serves: 6-8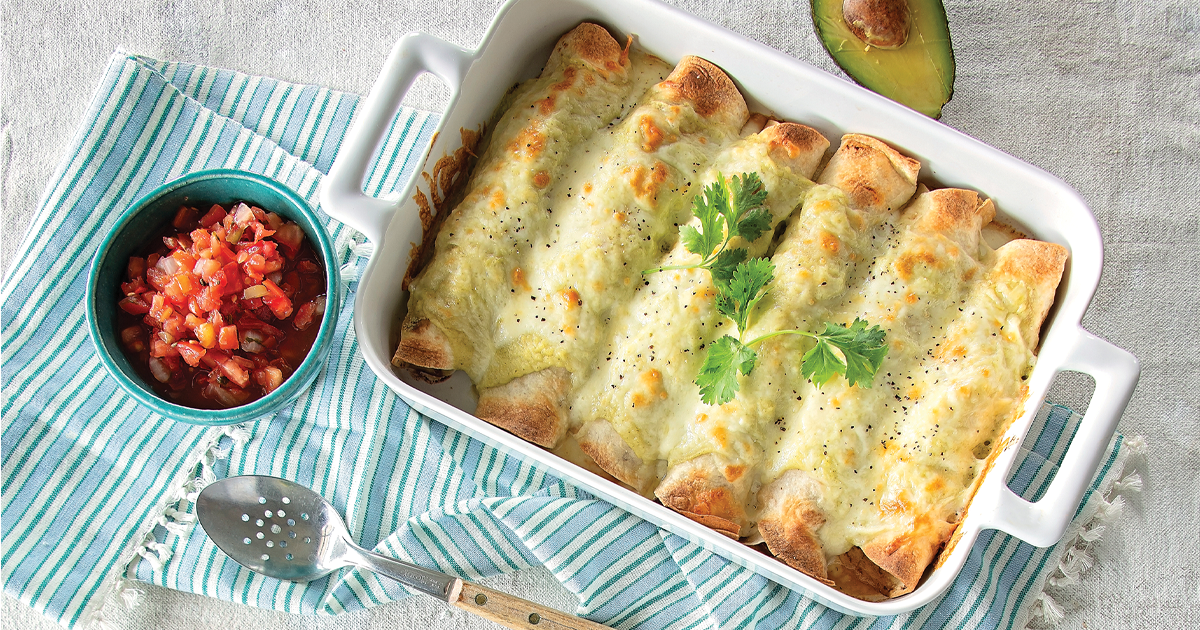 I'm forever grateful to my parents and their determination to solidify family dinners as part of our daily routines. I realize that times continue to change and not everyone can prepare meals every single day of the week, but my mom's regular habit of cooking and calling us to the table fostered stability and community in our family and gave us grounding that I'm not sure we would have found elsewhere. Without even realizing it, we were learning attributes about Jesus as my parents not only served and fed us but also modeled grace, kindness and even friendship.
INGREDIENTS
6 boneless, skinless chicken breasts, shredded (reserve 2 cups of broth)
1 teaspoon cumin
½ cup tightly packed fresh cilantro
½ cup sour cream
2 cups canned chicken broth
8 burrito-sized tortillas
8 tablespoons salsa, medium or hot
Optional: 2 cans black beans, rinsed and drained
4 ounces Monterey Jack cheese, grated
4 ounces Cheddar cheese, grated
Gravy
½ stick butter
1 tablespoon flour
DIRECTIONS
Preheat oven to 350 degrees. Boil chicken breasts or 20 minutes and reserve 2 cups of leftover broth when draining. Shred the chicken breasts.
To make gravy: In blender, mix cumin, cilantro, sour cream, 1 cup canned chicken broth and 1 cup reserved chicken broth.
In a skillet or saucepan, heat butter slowly and add flour until smooth. Slowly add 2 remaining cups of chicken broth until smooth and creamy. (If a thicker consistency is desired, add more flour.) Add this mixture to the contents of the blender and blend together.
To make enchiladas: Fill each tortilla with 1/3 cup shredded chicken and 1-2 tablespoons salsa. Add some black beans if desired. Roll tortillas and place in a 9 x 13-inch pan, seam-side down.
Fill pan with gravy from blender, completely covering the enchiladas. Sprinkle cheese on top. Bake uncovered for 30 minutes.
Excerpted with permission from "A Place at the Table" by Kelly Minter. © 2019, B&H Publishing Group.