Try This
Recipe: Cheesecake
Prep time: 20 minutes - Cook time: 1 hour 15 minutes - Serves: 6-8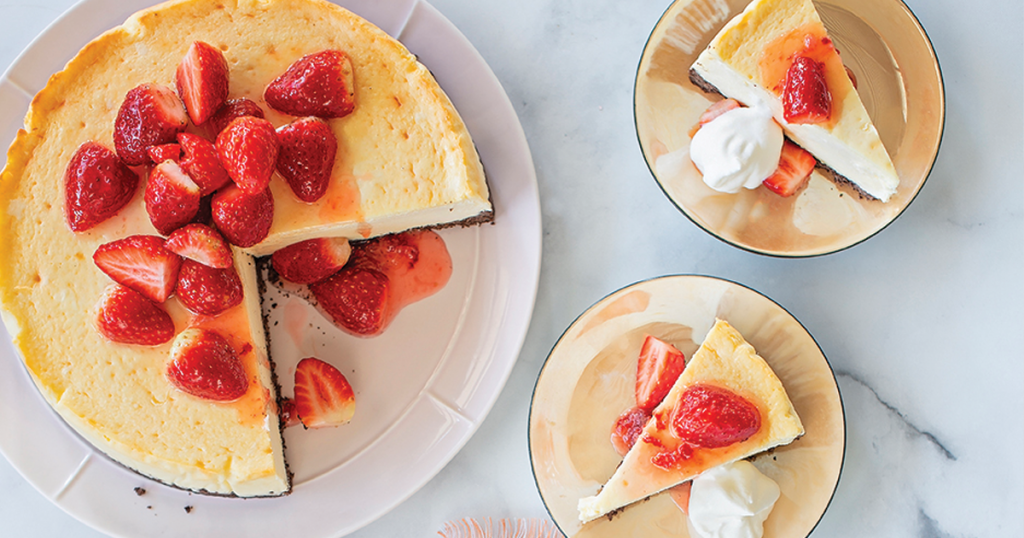 One way I combat unrealistic expectations that inevitably come with holidays and special occasions is to proactively set my attention and affection on Jesus. I try to let Him set the narrative. If I'm practicing thankfulness, looking for ways I can serve others and contenting myself in Him while I go about my preparations, my experiences are generally filled with peace and joy.
Ingredients
CRUST
2 cups vanilla (or chocolate) wafers, finely ground
¼ cup sugar
5 tablespoons butter, melted
CHEESECAKE
4 packages (8 ounces each) cream cheese
1 (14 ounce) can sweetened condensed milk
½ cup sugar
5 eggs
½ teaspoon vanilla
1/3 heavy cream
salt, pinch
instructions
Preheat oven to 325°F. Butter a springform pan and cover with parchment paper (bottom and sides).
FOR CRUST: Combine crust ingredients and press into springform pan. Using your fingertips, bring the crust to the sides, covering about 1 inch up.
FOR CHEESECAKE: In a large bowl, using an electric mixer, beat together the cream cheese, sweetened condensed milk and sugar until well-blended. Beat in the eggs one at the time until mixture is smooth. Then add vanilla, heavy cream and salt until smooth. Pour the filling over the crust and cover with a foil wrap. Fill a baking pan with hot tap water to depth of 1 inch and carefully place the cheesecake pan in it. Bake until the center barely shakes when the springform pan is shaken, about 50 minutes. Remove the cheesecake to a wire rack and let it cool. Refrigerate overnight.
CHOCOLATE CHEESECAKE: Follow the recipe instructions above, but once the cheesecake batter has been poured into the pan in step 3, add 1 cup melted dark chocolate. Swirl around to disperse and make a design. Continue recipe normally from there.
PEANUT BUTTER CHEESECAKE: Follow the recipe instructions above but add 1 cup peanut butter to batter in step 3, and blend to disperse. Continue to follow recipe normally from there.
TALLER CHEESECAKES THAT INCLUDE CAKE LAYERS: If you desire the cheesecake to be taller, you can always bake the base as a cake later, using a cake mix. For example, with chocolate cheesecake, I use one box of brownie cake mix, and bake according to the package. After the cake is baked, add the cheesecake batter and follow the instructions for baking the same as the cheesecake.
Excerpted with permission from "A Place at the Table" by Kelly Minter.
© 2019, B&H Publishing Group. Food photography © Stephanie Mullins with styling by Teresa Blackburn